ARGH. I had this review all typed up and ready to go, all I had to do was upload the swatch pictures and I was gooooddd :( but noo. SIGH. I will type it up again anyways beacuse I have all of the swatches anyways.
But yeah, This is a review on the ELF Studio Eyeliner and Shadow Stick. This is a duo product, so it saves alot of room and is basically saves you the hassle of packing a separate shadow and eyeliner. ELF is an EXTREMELY cheapie brand, the majority of their products cost $1.00. I kid you not ONE DOLLAR. But this was from their studio line so it was $3...yes THREE DOLLARS. That's still pretty dirt cheap. There was a sale a while back for 50% all studio products and I went crazy. There was also this free shipping thing and yeah let's just say my credit card bills are in pain.
This product comes in 4 different shades
Black/Smoke
Brown/Basic
White/Pearl
Green/Moss
The names say it all, well, except for basic. It's a pretty light colored brown, kind of bronzy-ish. Here are the swatches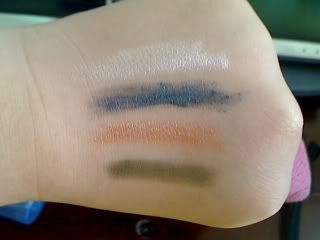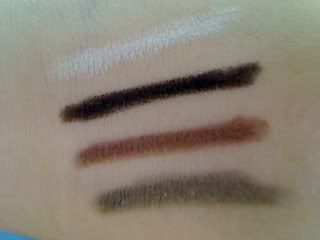 Yeap, They're pretty pigmented. I did however try to use these as a base (the black specifically) and it lasted pretty well before creasing. Because I have oily ass eyelids, cream based cosmetics tend to smudge faster on my eyes without my Urban Decay Primer potion. With Revlon Illuminance cream shadows they smudge 1-1 1/2 hours later, NYX Jumbo eyeshadow pencils begin the smudging process 30-45mins later (yes I do time them, haha). These lasted about 2-3 hours. So for people withough oilmines on their eyelids, the shadow stick part would work very well as a base. Oilies though, you might just wanna stick with UDPP as a base and if you really want you can put the shadow stick ontop of that.
The liner. Oh mann, on my top lids, because I have hooded eyelids, the smudged so fast I thought it was the base. But it was the eyeliner. But on the bottom, it was okay. Not the best lasting power, but not the worst. Started smudging after 2-3 hours. So yeah.
Overall this is an okay product for the price of $1.50. But not enough to wow me enough for me to repurchase. :)