So my second ELF haul came in today. YAY Comepletely made my day. This is my studio line order. I already have a post on what products I bought, but here's a picture of my haul. I'm most definetly going to do indept review on the products, but from first impression......let's just say I'm SUPER IMPRESSED. hehe. I have pictures of everything in a compact. I'll put that up tomorrow with the names of the products and what shades :)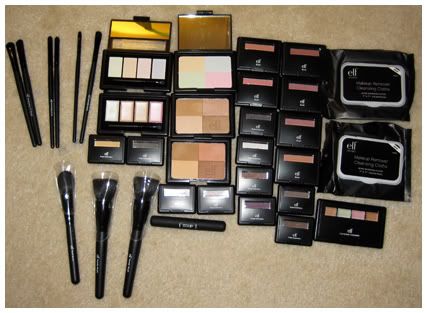 *I forgot to include the new face kabuki boo.
Hope everyone had a good tuesday and btw, today is the release of
G-Dragon's Solo Album, Heartbreaker
(and his Birthday!). It's a friggen amazing album and the publicity stunt that they pulled with the Plagarism scare with Flo-Rida's Right Round is INGENIOUS. As expected from Big Bang's leader. ALTHOUGH lol, I expected the album art to be much better and less creepy. haha but that's just me.
Have a good one everyone! :)