Hello all! Here are the swatches of the ELF Studio line eyeshadows and blushes. I'm liking them ALOT. They texture is really nice (not as great as NARs per se but near that level) but don't put too much pressure on them if you're using your fingers (I did for the swatches haha) or else powder will come loose because they are not that tightly packed. But very pigmented none the less so there is no need for a heavy hand :)
I have a FOTD that I'll post up later today using a lot of the ELF studio line products. I'm very very surprised because I know a few of the products I was struggling to decide whether I should get them or not because I predicted that there would be huge chunks of glitter in it (I am a total glitterphobe) but surprisingly all of them, in stead of chunky immature glitter chunks, have gorgeous iridescent sheens to it. It's SO prettyy, especially if you combine it with a matte color :)
anyways enough of my babbling, on the the swatches!
All of the swatches are pretty true to color except for a few that I've mentioned. Enjoy!
[Left to Right] Charcoal, Saddle, Coffee Brown, Mystic Moss (in person it's SLIGHTLY more green tinted, but not by alot) and Pebble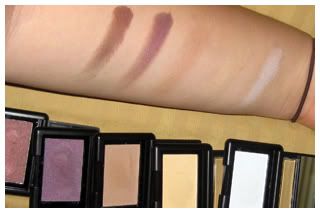 [Left to Right] Raspberry Truffle, Amethyst, Wild Wheat (has a sheen that's not captured in picture), Butter Cream (has a sheen that's not captured in the picture) and Sand Dollar (has a silver/gold sheen not captured in picture)
***LOL you can't really see butter cream that well because it's so similar to my skintone, but it's more light goldish. It's more pigmented than it looks. Really pretty :)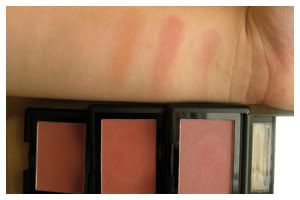 [Left to Right] Mellow Mauve (lol not mellow at all compared to their website swatch), Blushing Rose, Berry Merry
[Left to Right] Tickled Pink, Candid Coral, and Peachy Keen
Palette Swatches and the ELF makeup remover review coming soon! :)
Haha I'm trying to get as many posts until classes start. Then I'm effed.........once again. LOL >.<
How are your ELF hauls? :)
**EDIT: WHAT THE FRUITCAKE. LMFAO I just got an email saying my 3rd ELF order just shipped.......and I placed the order last night. It was a joint order with a few of my friends too so there's a rackload of stuff in that order. By far my biggest order haha and it only took 6+ hours to process before I recieved my shipping information?! LOL I guess ELF knows I love their products? haha I find this funny.