Face
IPKN Multi Makeup Finishing Base
Maybelline Superstay Foundation in Classic Beige (hate you maybelline superstay -____-)
ELF Studio Blush in Tickled Pink
Eyes
Revlon Brow Fantasy in Dark Blonde
Urban Decay Primer Potion
ELF Studio Shimmer palette (the white color)
ELF Studio Eyeshadow in Butter Cream
ELF Studio Eyeshadow in Coffee Brown
Bobbi Brown Gel Liner in Black
Maybelline Lash Stylist Mascara
Lips
Palmer's Cocoa Butter Swivel Stick
Urban Decay Lip Primer Potion
ELF Mineral Lipstick in Runway Pink
ON TO THE REVIEWWWWW
Maybelline Superstay Foundation Review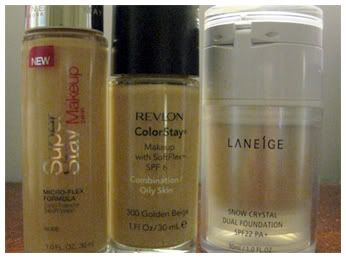 *On the very left in comparison to my Revlon colorstay and Laneige Snow crystal foundation
This foundation is pretty new. So new that there's not even a link or product informational thingy on the Maybelline website yet.
Anyways, I've been walking past this foundation at my local CVS a couple of times before I actually gave in and bought it. There were small tester vials avaliable to color match yourself and I found that really neat especially for a drugstore brand because they normally don't do testers for drugstore cosmetics. I've also been reading up on the reviews on makeupally for this foundation and unfortunatly to say alot of the reviews have been pretty positive, which was a main reason why I gave into the hype in the first place. HOWEVER when I first purchased this, I had originally purchased this in the wrong shade it was one shade too light for me. So I exchanged the Nude for the Classic Beige. Let's backtrack a little bit. The first day when I put this foundation on was when I had purchased this in Nude. At first it looked okay on my skin, almost matched my skintone exactly except it was slightly pinky. But later in the day I realized that the foundation had started to oxidize although I convinced myself it was because the lighting in my room was whack and the shade was too dark. So I exchanged it and the second day, the foundation seemed perfect. BUT, since this does not have a pump I poured a little bit on my hand and brushed it on there. The color looked exact, but once again later in the day it started to oxidize on me but this time because this shade had more yellow undertones than the previous shade, instead of turning darker it turned ORANGE. *note see above face of the day* But I decided to be nice and give it a few more days to get used to my skin and I noticed it oxidizing even faster with each use of the foundation and yesterday, I finally decided to send this useless foundation into my swap bin.
Pros
-a pretty wide color range for a drugstore brand foundation
-Coverage is really nice, about medium to heavy depending on how you layer
-Doesn't accentuate flakey dry spots
-Has a dewy finish if you're into that (I'm not -___-)
-Doesn't break me out

Cons
-IT DOESN'T EVEN LAST THAT LONG. It promises "super stay, up to 24hrs". BULLCRAP. Revlon makes that claim too, but it really does last on my super oily T-zone!
Oxidizes
-Color selection is not yellow/olive toned enough to suit asian skintones
-Has a dewy finish
Would I buy this again?
HECK NO.
Who would I recommend this to?
People with more dry skin. Maybe the foundation won't oxidize on you because of the decreased oil production. and for people with sensitive skin
SIGH. I'm not saying that this is a horrible foundation for everyone, just me. Especially since on makeupalley there are alot of positive reviews, I just happened to not be one of them.
boo, the search for the perfect foundation continues!