Hi Lovess! So what have I been buying since the failure of Project 10 Pan?? Well for starters this is my most recent batch. I've actually accumulated much more withing the past 2-3 months of not posting but I don't remember what I have shown and what I have not. I started taking pictures but then I always leave a whole bunch out so I fail once again! T___T But I'll try to get all of the new stuff together. Or just start doing reviews on them haha, simple enough.
ANYWHOOO. I purchased all of these sometime last week during the memorial day weekend and the week before. You probably have noticed that some of the stuff are from the MAC To the Beach collection. I totally forgot when the collection was released so I missed out on the Marine Life Highlighter Boohooo. Oh wells. I think I'd feel that it's too pretty for me to use so I'd never use it and you all know how much makeup I have accumulating ALREADY. haha So I'm not too heartbroken about Marine Life. The rest of the stuff I got at a CCO outlet nearby (actually, like 1hour away -___-). I'm trying out a new format for my pictures now that I'm making my comeback posts haha. Let me know how you like them! :)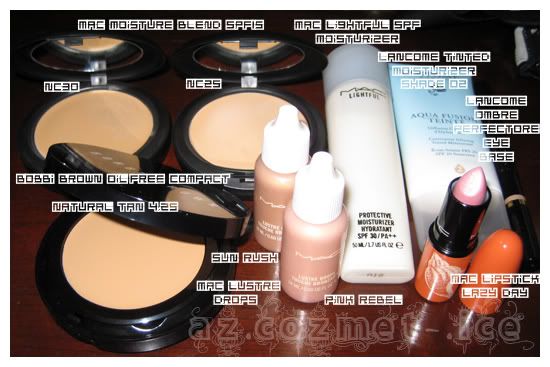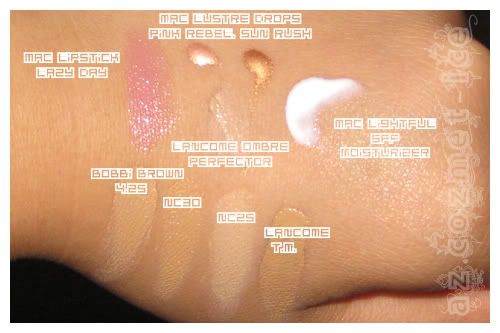 And as requested, Swatches! :)
I bought both the NC30 and NC25 of the MAC Moistureblend Select SPF15 foundation because I'm inbetween shades right now because I actually tanned for once in the bahamas (wooo~ from NC20 to NC30~ish SOOOOOOO muchhhhh difference lol).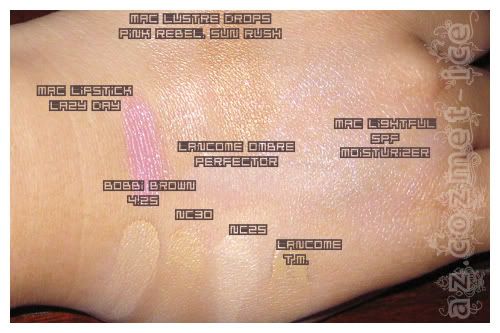 More swatches, under a slightly different lighting and gently blended out. :)
I do realize that I bought a lot of face make up, well face products in general so I have a while to go before I get to reviewing them all O_o. Hahah oh man, what have I gotten myself into. But it's okay, expect reviews on a few of these things. Face makeup will be slower obviously but none the less keep a look out for those :)
Till then
♥
P.S. I'm going to the CCO with the BFF on friday.......uh oh... o_O