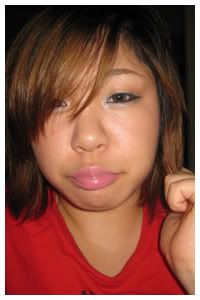 SIGHHHHH. uber fails. I've been itching to try the 2ne1 Fire look (yes I know it's old by now LOL. I DON'T CARE! I don't conform to normalities! haha). I tried it today but....no go. I took a bunch of pictures but I was only really satisfied with 2 of them. SUPER SAD. Now I realized why I don't do the winged eyeliner. They're SO HARD to do on yourself! Gah, I don't even understand how I did them on my friends. On myself they always looks lopsided. Boo. That means more practice for me....sighhh.....
Products Used
Face
Laneige Snow Crystal Dual Foundation
ELF Studio Blush in Mellow Mauve
Eyes
ELF Mineral Eye Primer
Urban Decay Eyeshadow in Peace
Urban Decay Eyeshadow in Smog
Urban Decay Eyeshadow in Zero
MUFE Aqua Liner in Black
Maybelline Liquid Liner in Brown
Revlon Brow Fantasy in Dark Blond
Lips
ELF Mineral Lipstick in Natural Nymph
MAC Lipstick in Speed Dial
C.O. Bigelow Pomogranate Lipgloss (clear gloss)
.Ramble
SIGH. summer vacation is coming to an end...even though I didn't really have a summer haha especially with summer classes and working full time at the lab :( My summer was not as productive as I hoped it to be. Summer classes and a full time job is killer. I do not recommend it at all. But I got back into blogging which I am thankful for. I'm turning 20/21 (haha one day you guys will find out the real meaning to this) in less than 4 days. I feel somewhat
reluctant
to let go of my
youth
but at the same time I want to
embrace the future
.
To take a step forward and let go of everything in the past is indeed hard.
But in order to be the person that I want to be, I need to aim for my goals and never let go.
There is no second chance for me.