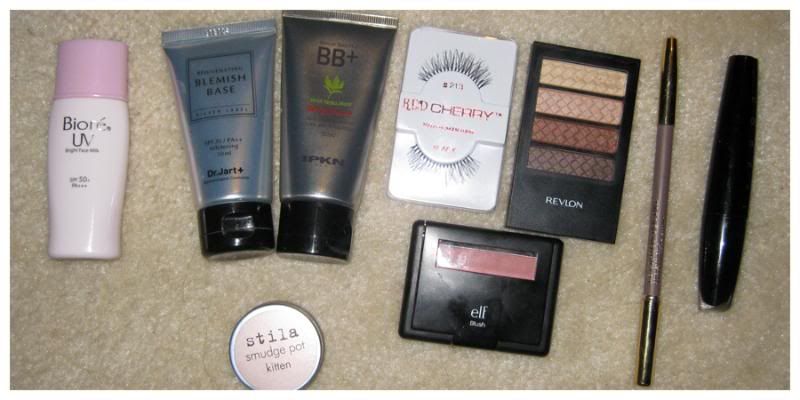 Yay! Finally. Here are the things I've been reaching for the most this month. :)
From Left to Right: Biore Brightening Face Milk with SPF 50+ PA+++, Dr. Jart Silver Label BB Cream, IPKN Blemish Balm Plus with Yabe Mate, Red Cherry lashes in #213, Revlon Colorstay Quad in Copper Spice, Lancome Brow Pencil in Taupe, Loreal Extra Volume Collage Mascara in Blackest Black, ELF Studio Blush in Tickled Pink, Stila Smudge Pot in Kitten.
IPKN Blemish Balm Plus and Dr. Jart Silver Label Blemish Base
I have a box full of BB Cream, but out of all of them I like these two the best (with the exception of the mini ones from skin79 that I haven't tried yet. haha tsk shame on me) But anywhooo, I love these the best because in the Fall/Winter I get pretty pasty looking, like NC15-20ish and since these only come in one or two shades that are around the NC 15-20ish range, the color selection fits me perfectly! They both have really nice medium coverage when applied with my Everyday Minerals Flat top Kabuki and blend flawlessly into my skin. They also brighten my face up very nicely. These paired with my ELF Studio blush in Tickled Pink gives me a really pretty dolly look.
Stila Smudge Pot in Kitten
I bought this on a whim after walking past this at sephora a couple of times. The other times I held myself back with the thought that nothing will last as long as my Bobbi Brown Gel liners. But I gave into the urge one day and grabbed this and threw it in my sephora bag before I could second doubt myself and put it back. I must say I'm SUPER glad that I bought this! Although it is a little more frosty than I'd like it to be, it's realllyyyyyy gorgeous. It's a soft peachy pink color so it matches my skintone very well for highlights. Now you might know if you saw my previous FOTD, but I tend to scratch my inner eye corner so anytime I have a powder highlight, even cream they come off within a matter of seconds. But this has held up REALLY well. I've even used this as an eyebase alone and it really makes my eyeshadows pop. It also makes blending eyeshadows really smooth. Now it doesn't last as long as UDPP but it still gets the job done very well for me! :)
ELF Studio Blush in Tickled Pink
Um, GORGEOUS. I feel like alot of people thing that the lasting power of these blushes suck but I actually think they hold up pretty well. Sure they fade but they're only 3 bucks. I actually use it to set my LF around my cheek area and it's done a fantastic job. Now that it's Fall time, I can bust out my BB creams which brighten my complexion up really well. When I pair it with this, I look like a doll kinda. haha. I think it's really pretty. It goes on pretty nice too. :)
L'Oreal Extra Volume Collagen Mascara
I actually just purchased this in the middle of September because I had lost my Maybelline Lash Stylist mascara and the Sky High Curves one that I had as a back up SUCKED BALLS (excuse the language, but that's how I feel about that mascara in particular). So I've been eyeing this for a while and finally picked it up. I'm SO GLAD I did. Why? because it really does SUPER volumize my eyelashes. It clumps a little bit when I put more coats on it, but it doesn't clump up crazily like others. It doesn't smudge, flake or decurl my lashes so that's a HUGE plus for me. I'm crazy about the volumizing part. I love it soooooo. It also blends my eyelashes in with my false eyelashes very well too!
Lancome Brow Pencil in Taupe
I've been reaching for this alot. I feel bad for throwing aside my Revlon Brow Fantasy pencils, but really, this works so much better. The finish is soft and powdery like, unlike the Brow Fantasy which was somewhat waxy. This doesn't yank out one of my few brow hairs which makes me love this product. I tried the MAC brow duo but I don't like having to use a separate brush to use it. I'm a simple one step kinda girl so anything that makes application easier and faster I'm all up for. Not to mention the brow wand side of this is absolutley divine! It's very study so my brow hairs actually STAY in place. wow :)
Revlon Colorstay Eyeshadow Quad in Copper Spice
I mainly just use the bottom two colors for my everyday look. The coppery color for the lid and the bottom dark brown color for the outer V. Sometimes I use the peachy tone color to blend the outer V if it's too sharp and the light pale yellow color for highlight if I feel like it. This quad is very versatile to use. It's basic and perfect for a natural or a more dramatic look. I recomend this to beginners too if you're looking for color. The shadows themselves are nicely pigmented and go on very soft. At first they came out sheer but with more use the pigmentation gradually got better. I've been using this everyday. It's great for a neutral and natural look.
Red Cherry False Eyelashes in #213
I made a huge order at iheartredcherry.com a while ago that I never posted up. Haha I think it was when they had all lashes on sale for 99cents. I got alot of falsies haha, but they're super long! It's hard to pull of falsies that are 3-4x longer than your normal lashes and I got the ones that looked the shortest on the site too! HOWEVER out of the ones that I got the #213s are the PERFECT length. They also look super natural but gives the illusion of me having thicker eyelashes. They really complement my eyes :) I like them a lootttttt.
Biore Brightening Face Milk with SPF 50+ PA+++
This is actually something that I have been using for the past 3 years, or when my last trip to china/japan was. In Shinjuku(sp??) they were handing out samples and samples of this sunscreen was one of them, they gave out 2 types out of the 3 that they normally offer the whitening one and the brightening one. I already used up my Whitening one that I purchased off of ichibankao so I picked this one up. Yeah, it still smells super funkey, kinda like chemicals, but that goes away after a second (seriously). These sunscreens go on super smooth. They give a nice powdery finish and a little bit goes a looonnnnnngggggg way. I normally mix it in with my moisturizer so it spreads out more evenly because they dry fast. I can really tell that this brightens up my complexion!
What are YOUR September favorites?