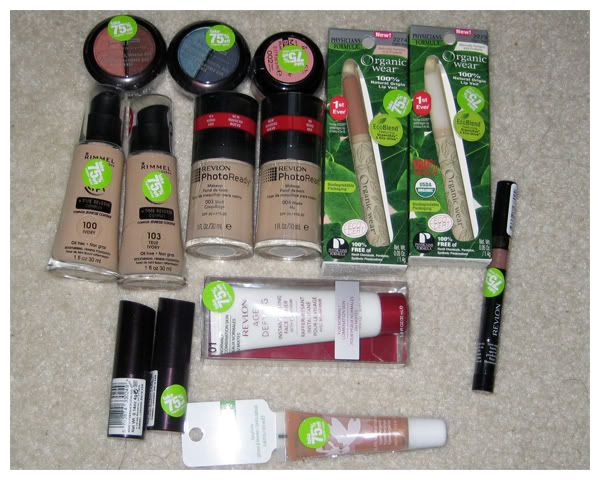 L'oreal HIP eyeshadow Duo in Playful ($1.99)
L'oreal HIP eyeshadow Duo in Spirited ($1.99)
Rimmel Lasting Finish Lipstick in Celeb ($1.32)
Rimmel Lasting Finish Lipstick in Birthday Suit ($1.32)
Rimmel Mouse Blush in Peach Ice Tea ($1.85)
Rimmel Renew and Lift Foundation in 001 (Ivory) and 003 (True Ivory) ($2.55)
Almay Pure Blend Lipgloss in Peony Pivoine ($1.99)
Physician's Formula Organic Lip Veil in Nude ($1.99)
Physician's Formula Organic Lip Veil in Sheer ($1.99)
Revlon Cream Lip Gloss in Slip into Pink ($2.49)
Revlon PhotoReady in 003 Shell and 004 Nude (for
BFF
) ($13.99, BOGO)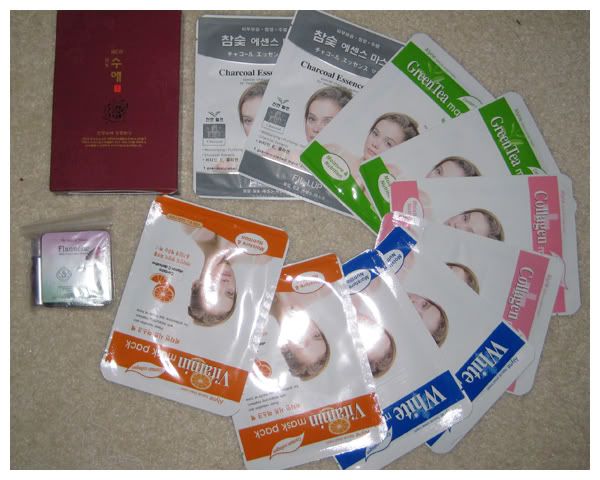 10 Korean brand sheet face masks ($1 each): Vitamin, White, Collagen, Green Tea and Charcoal
5 Korean brand sheet face masts (Box of 5 for $15) <---LOTS AND LOTS of serum! O_O I forgot to include the Queen Helene Refreshing Olive Oil Intense Moisture Facial for Dry Skin Masque. ACK Try saying that 10 times super fast. I believe it costed me a little over $3 at ULTA. Yay! Here are the swatches! The colors look better here than in the bottle.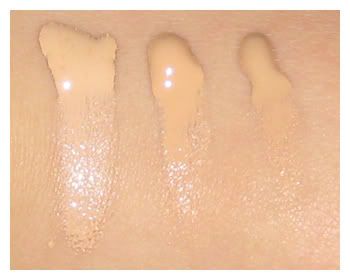 [L-R] Revlon Photoready in 003 Shell, Rimmel Renew and Lift in 001 Ivory and 003 True Ivory
Darn, I didn't know Shell would be that light. 003 seems to match my skintone exactly. 001 looks like it'd be exactly the same color just slightly more yellow based. I think I can work it into my skin. I'll let you guys know what I think after a few trials. Hmmm what should I do about the Photoready though? I might get it exchanged if I can...
[L-R, T-B Almay Pureblends Lipgloss in peony pivoine, Revlon Creme Gloss in Slip into Pink, Rimmel Lipstick in Celeb, Rimmel Lipstick in Birthday Suit, Loreal HIP eyeshadow duo in Playful, Loreal HIP eyeshadow duo in Spirited]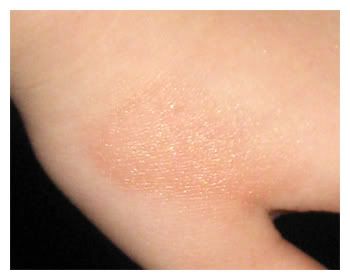 Rimmel Mousse Blush in Peach Ice Tea
YECK! The Physician's Formula Lip Veils SMELL DISGUSTING. They are going right back to the store tomorrow along with the PhotoReady in 003. Hopefully the 004 will match better. :)