Hi everyonnnneeee! So I've decided to restart Project 10 Pan. My first time was super unsuccessful because I gave in but I'm going to get back on it and finish it all the way! If anyone wants to join me please do! We'll support this shopping ban together! Haha. Anyways I bought a couple of eyeshadows today for me and the bff for our future play dates (aka Makeup Challenges) just as an excuse to buy more make up....for the last time in a while haha. But I'll post those products up and give a review of them after she's recieved them so be patient for those who read my blog for the minimal purchases that I make!
So, to start off Project 10 Pan I'm going to post up a picture of my current make up collection since I cleaned up my room while I was snowed in and reorganized everything, including my makeup. Here goesss :)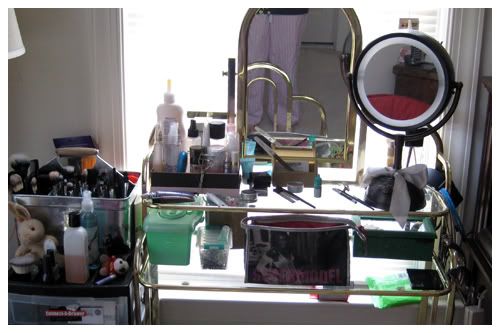 My super old vanityyyy. Haha you can see my VS Travel/Gym Makeup bag. I leave it there so when I go to the gym in the morning I just throw my normal routine stuff in there and bolt.
Most used stuff for face are left out in the little box on the upper left and other most used things are just left out. Haha like my Illamasqua brow cake and eye cake. Baby wipes and make up remover wipes are on the bottom, you can't really see them :)
From left to right, Face brushes, Blending and cheek/contour brushes and lastly eye brushes. In the back are just random stuff like a travel brush set, straws...for my drinks haha, and lastly a 7-11 domo cup from a few months ago for my dirty brushes!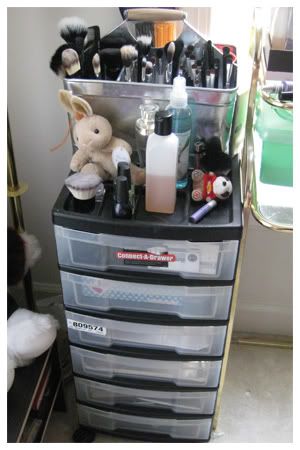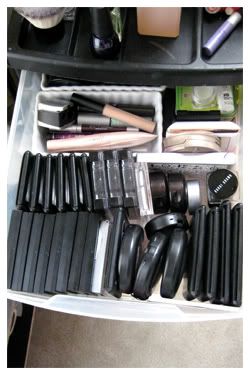 The whole stand! Just some random nail stuff on top with a few stuffed animals. On the right is my first drawer, which are my Revlon colorstay eyeshadow quads, face powders, blushes, bronzers and a few random stuff that I use often but not often enough to be left out. In the wayyyyy back you can't really see it but there are revlon matte shadows that I don't use that much :/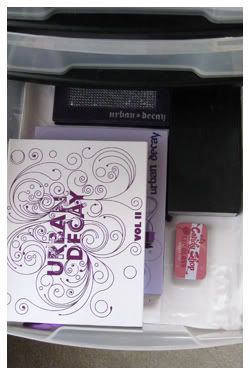 Lip stuff! I have a lot >.< But yess the lip glosses and YSL lippies are in the side compartment because they're too tall to be put upright with the rest of the lippies. In the back are unused palettes I got from ebay when I first got into makeup...they sucked haha. Next drawer are the palettes that I ACTUALLY use. It's all urban decay haha and in the little pencil case thing are eyeliners that I don't use that often or at all X____x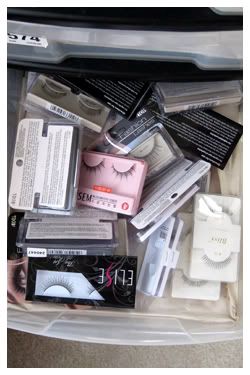 Last but not least! Eyelash drawer! It's so messy, I need to organize it one day. And the one below it are just back ups, extras and stuff that I have yet to open and use. :)
Oh and also a few pigment samples I have yet to press too X____x
Well that's it for my makeup. I'm not going to post up the products that I THINK I'll use up first like how other P10P persons are doing it because I'm not even remotely close to using up anything.......except mascara but that doesn't count. Boo hooo.

Please join me! :)