Ack! Sorry for not posting in son long. I know I said I was going to keep it consistent but....I really don't have any excuses. I just got too lazy to edit picture :(
I did try to make a tutorial but it's only half way done and I started getting annoyed with my tutorial format so I spent some time thinking of a good tutorial format that's not too time consuming to make. I've finally come up with one! But it's still in the works so when I get that finalized I will be post much more tutorials! Now if only my pictures would come out the same angle.......haha
Anyways I've reached 50+ followers! That you all for sticking by with me despite my sporatic posts and lack there of. I'm going to do a giveaway but since I'm on Project 10pan, I've forbidden myself to go to any cosmetic stores/counters, I'm not even allowed to wander into the cosmetic section of my local drugstore! Too many temptations. I did once but I almost left with 5 unecessary items. Good thing I managed to shove them all back before I PAID for them. EEeekkk. But I WILL find a way to host a giveaway so please bear with me for a little longer! I promise it'll happen very soon!
So here are my favorite revisited items for the Month of February! Mini reviews will follow the pics :)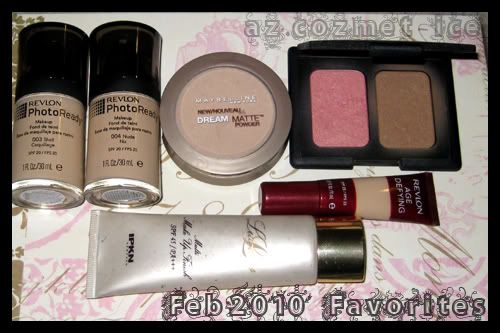 Revlon Photoready Foundation
(pppssshhh I almost typed Phoundation -____-): I have a review of this already a few posts back. I have this foundation in 003 and 004. I'm right in the middle so I mix them both to get my perfect shade. Overall I'm very happy with this foundation. I always get comments on how I looks really pretty that day (what, I don't NORMALLY look pretty!? lol jk) even if I'm just wearing liner, mascara and the foundation. In the light it's still super bling though so I'm still not to fond of that but it's okay. It's only if you look really close
Maybelline Dream Matte Powder
: I used to think this made me look cakey and chalky but to mattify my t-zone when I get oily it's really nice so I started to use it to set my LF, even though I said in my LF review I don't need a setting powder, it's just nice to have one. It makes me feel better and it makes the oilies stay away longer. I'm not sure what color I have but is is FAINTLY darker than my skin but not by that much so it's okay if I use a lighter hand and don't use that much.
Nars Orgasm and Laguna Blush/Bronzer duo
: I love the laguna side. The blush side I'm not too fond of. It might just be me but I can never get any of the color pigmentation to go on my skin. I love the color but it just takes a lot of work for me to get the pigmentation that I like. I wish I had the bronzer side alone because Laguna is such a nice bronzer for my skin tone. It's not orangy and it works great for cheek contouring, not necessarily for the nose because it's a tad bit warm and not grey toned enough for that but I don't contour my nose so that's okay.
Revlon Age Defying Moisturizing undereye concealer
: I believe this is a new product so it's not on the website yet but I really like this. It's super moisturizing so it won't dry out my under eye area like the Revlon beyond natural one, I think it's the one with the really shatty illuminator. Yeap, hate that, but love this. The color works great with my skintone and it's super easy to blend! I just wish that the applicator was different, maybe like a little roll ball type thing. It's a very narrow squeeze tip. You only need a little but it squeezes WAYYYY too much out. And since I man handle my make up......:(
IPKN Multi-Make up Finish Primer
: My first primer! This really evens out my skintone before I apply makeup. Remindes me somewhat of a more sheer version of BB Cream. The lasting power of this is okay, not super amazing but I use it for the fact that it helps my make up blend in and covers my pores fairly well.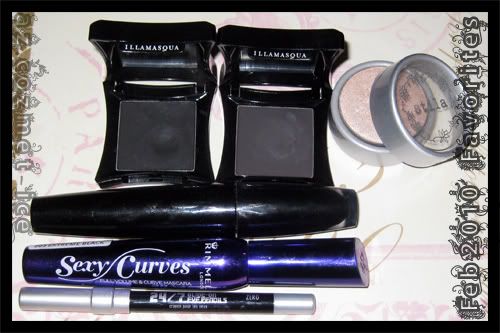 Illamasqua Eye Liner Cake
in Mislead: Haha you can see the pothole I made on the bottom right corner! But I've been using this for the past few months and I'm really suprised that I've ONLY made a pothole THAT sized. I use water as an activator so it's not water proof but even with water as the activator it lasts super long! Both on my bottom and top lashline too! I love that you can control to definition of the line that you make with the amount of water, more smudgy line = less water, more defined = more water. It took some time to get used to but I'm really really glad I stuck through because this has rapidly risen to the top of my HG Eyeliner list.
Illamasqua Brow Cake in Vehement
I love this for the color! It's not too red toned. It's actually more of a Grey brown so it works well with my current hair color! Love love loveee
Stila Eyeshadow in Starlight:
I bought this on impulse when ULTA had a 20% coupon that was applicable to UD and Stila products. Reminds me of a powder version of kitten except it's lighter. I've been using this as an inner corner color for the past few weeks and I like it a lot! It's really shimmer but not obnoxious glitter chunks or anything like that. Just very finely milled shimmer :)
L'Oreal Extra Volume Collagen Mascara
: This mascara gives me a LOT of volume. I don't have that many eyelash hairs so this is a big plus! The downside is that it does clump sometimes but I always layer mascaras (since I can't find a mascara that does both) so that's where the next mascara comes in.
Rimmel Sexy Curves Mascara
: On it's own this mascara is a discrace to me. It doesn't even lengthen that much and no volume whatsoever, but when I pair it with the L'oreal collagen mascara it separates the lashes and lengthens very well! I find that very strange but oh wells, can't complain when I get the effect I like :/
Urban Decay Eyeliner in Zero: I used to not like this because it still smudged on me but now I set it with a little bit of eyeshadow before/after or both and it lasts forever. Near the end of the day it does smudge a little but not too much, it just gives me a smudged eyeliner effect :)
MAC Blot Powder
: Just a regular setting powder for me. The middle part looks gross right! That's what happens when I don't blot and just straight use the powder with my nasty ass face oil! :( I scratched a weird heart in there, but yeah this is the first product I've hit pan on. Pigmentation wise is minimal but it mattifies my t-zone very well so it's in my travel bag for when I need a t-zone touch up!
Urban Decay Pocket Rocket in Timothy
: I have 3 of these pocket rockets but this one is my favorite because I've been wearing a lot of nudes lately. It's not too sticky but it's still sticky enough to make my lip sticks last a long time (unless I'm eating or drinking -____-) It also smells like cereal so yummmyyyy!
Revlon Color Burst Lipstick in Soft nude
: This is the perfect shade for my skin tone! It doesn't wash me out like MAC's myth does and it doesn't dry my lips out as much as Myth. The color is great! I love pairing it with MAC's lipglass in Born to live or Urban Decay Pocket Rocket in Timothy. Super pretty nude
YSL Rouge Volupte in #1, Nude Beige
: I really like this color along with the honey beige but I've been picking this up more often because I've been wearing a lot of nudes so I like to add in a pop of color sometimes. This gives me a nice pop of color but it's not too bold where my lips are like ZOMG LOOK AT ME!
MAC Lipglass in Born to Live (LE??)
: This is my first ever MAC Lipglass. I originally hated it because I'm not a fan of sticky lipglosses but I told myself to suck it up because it's such a pretty color and makes my lipstick last FOREVER! It's because of the stickyness but I've been better about it so it's not too bad for me anymore.
---
Project 10Pan update
: I'm a little caught on whether I should add in skincare because I do buy a lot of skin care, so much where I have plenty for facial cleansers to last me a good 5-6years but skincare is skincare and make up is make up. I think I might include in skin care to make my 10pan 1st round go faster so I can get stuff for a give away but I feel like that's also cheating so....I don't knowww. Make up wise, there really is nothing that I have that's remotely close to being finished except my MAC blot powder and Baby oil/makeup remover. So that's 2/10 T__________T I'm working on it sighhhhh.... we'll see. I'll definetly find a way whether I do or do not include skin care into my p10p....
---
Take care!
♥